DRIFTER - The Demos 1985 & 1986 CD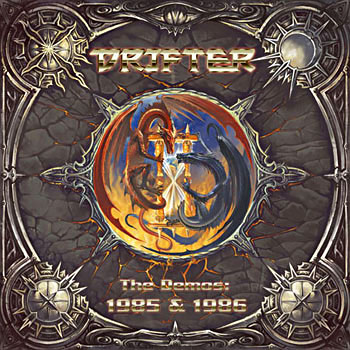 Out on October 23-rd 2006
Las demos originales "Tales Of Dragonia" y "Beyond The Burning Circles" de los años 1985 y 1986 recopiladas en un CD.
Tracks:
01. (Intro) Dark Kingdom
02. Fire Of Dragonia
03. Drifter
04. Inquisition
05. Land Of Fantasy
06. The Elder
07. Banners On The Battlefield
08. Burning Circles
09. Drunken Drifter
10. Banners On The Battlefield live at Rock City, Uster, Switzerland 18.03.2006
Silverpressed release con 8-paginas de booklet con nuevo artwork, historia de la banda, muchas fotos, infos, etc.

Enhanced multimedia CD incluido el original promo video clip "We Can't Be Beaten" del 1989 LP "Nowhere To Hide".

Edicion limitada de 1000 copias, primeras 250 de las cuales son una edición die-hard especial con extra glossy UV-coated hand-numbered slipcases y con parche de DRIFTER de regalo .
La edición die-hard la distribuye exclusivamente StormSpell Records.
Para pedir el CD click aquí : Stormspell Records