DRIFTER - The Demos 1985 & 1986 CD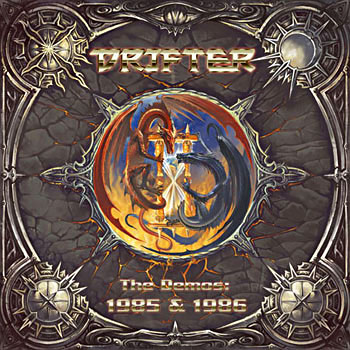 Out on October 23-rd 2006
Re-release of the original Demo Tapes "Tales Of Dragonia" and "Beyond The Burning Circles" from the year 1985 and 1986
Tracks:
01. (Intro) Dark Kingdom
02. Fire Of Dragonia
03. Drifter
04. Inquisition
05. Land Of Fantasy
06. The Elder
07. Banners On The Battlefield
08. Burning Circles
09. Drunken Drifter
10. Banners On The Battlefield live at Rock City, Uster, Switzerland 18.03.2006
Silverpressed release with 8-page booklet with brand-new artwork, band history, tons of rare pictures, info, etc.

Enhanced multimedia CD including the original promo video clip "We Can't Be Beaten" from 1989 LP "Nowhere To Hide".

It will be limited to 1000 copies, first 250 of which would be special die-hard edition with extra glossy UV-coated hand-numbered slipcases and including woven patch as free bonus.
The die-hard edition would be sold exclusively by StormSpell Records.
To order the CD click here: Stormspell Records